Why Yoga for the Military
The practices of yoga and meditation have been proven to down-regulate the nervous system, reduce stress and symptoms of PTSD, increase range of motion, reduce chronic pain, reduce insomnia, increase attention span, and more. However, service members often turn to the highly accessible, low-cost, side-effect-free practices of yoga, meditation, and mindfulness as a last resort.
We're here to help integrate these practices into the lives of the military community earlier and help pave a new path forward for those who feel like it's too late.
Check out this video to see how yoga has impacted the lives of these veterans pre- and post-deployment.
Our Programs
Developed and led by world-class faculty and featuring specially-trained instructors, Warriors at Ease programs allow you to:
Get trained in how to bring the practices of yoga and meditation to the military community in a trauma-informed and adaptive manner

Partner with us to bring transformative mind-body practices to your unit, organization, installation, university, or studio

Practice with a Warriors at Ease-trained teacher online or in-person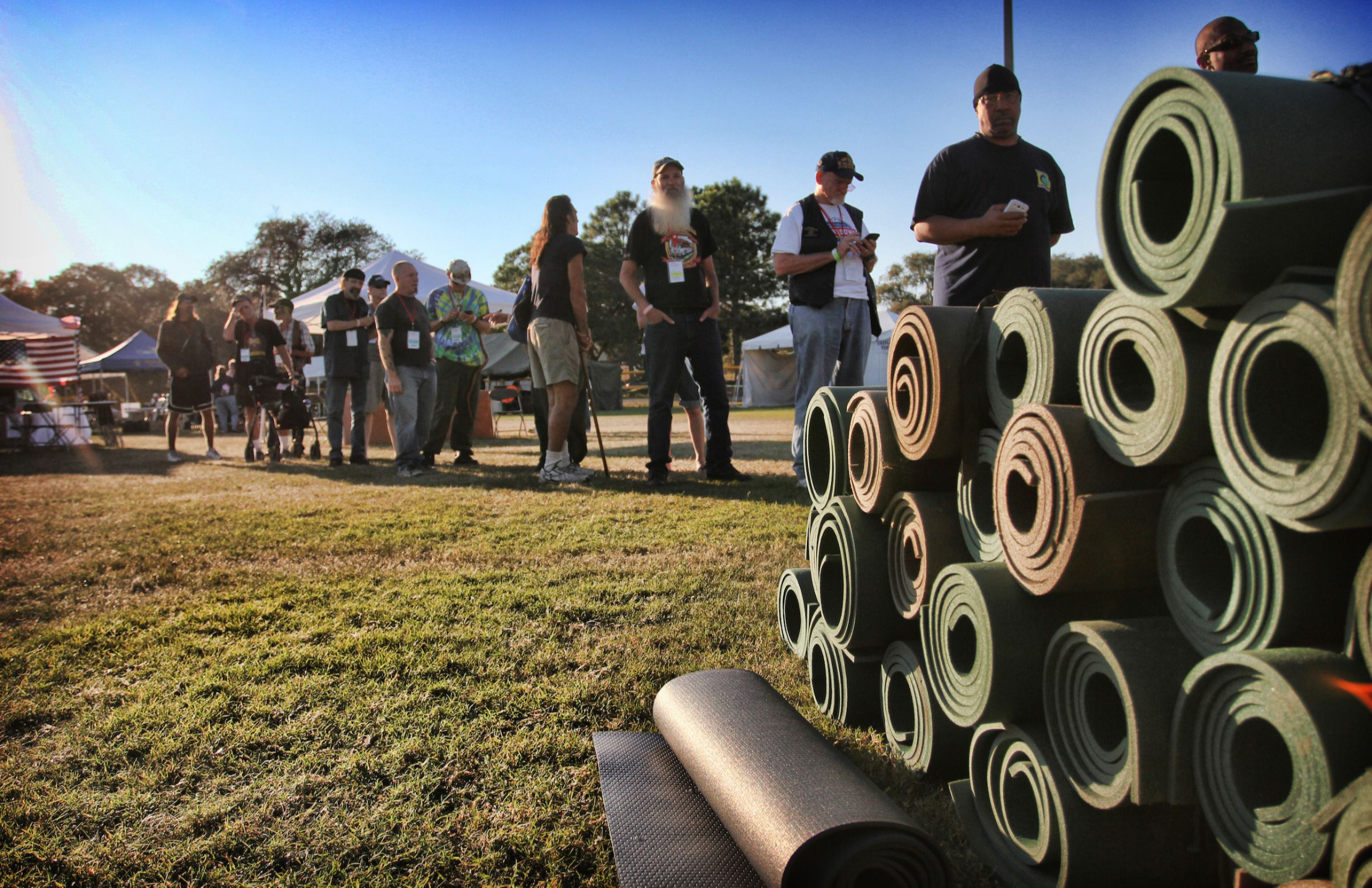 Our Impact
For the past 11 years, nearly 1,400 yoga and meditation instructors, healthcare workers, and community service providers around the world have taken a Warriors at Ease Training. Once they've completed Warriors at Ease training, these individuals work directly with the military community in clinical and non-clinical settings such as VA facilities, on military installations, at Vet Centers, for the Steven A. Cohen Veterans Network, Wounded Warrior Project, the Travis Mills Foundation, Semper Fi Odyssey, PB Abbate, in behavioral health and substance abuse facilities, at yoga studios, and more.
Warriors at Ease-trained teachers live in 11 countries and all 50 states, and 70% of them are service members, veterans, or military spouses themselves. Collectively they have touched the lives of over 185,000 service members, veterans, and family members.
Donate Now
"As a Recreation Therapist working with soldiers in recovery, finding a Warriors at Ease-trained instructor was like striking gold. Yoga has a lot of benefits when taught by any trained instructor; but when it's taught by an instructor that is trained specifically to deliver trauma-informed evidence-based practices specific to the military, the therapeutic value skyrockets and change occurs."
- Jana, Recreation Therapist, Army Recovery Care Program
"I am a SEAL and have done 'regular' physical yoga in a studio near base before. I was able to attend a Warriors at Ease yoga class as part of a PTSD program at the VA. This class was different and suited me better than other types of yoga. It helped me navigate some difficult stuff as I was going through therapy. Now that I'm out of the program and plan to take Warriors at Ease yoga classes in the future."
- Post 9-11 Veteran Acute PTSD Evaluation, James A Haley VA Medical Center
"My son suffered a severe PTSD-triggering episode. All of my research told me that I couldn't/shouldn't talk to him about what happened in Afghanistan because I wasn't qualified to handle the ramifications. I read article after article, book after book, and Warriors at Ease was often mentioned enough to make me curious so I investigated and that's that. I found a way to help my son without harm. To think that I might have the skills to help someone else's son or daughter gives me real purpose and I am most grateful for Warriors at Ease."
– A Proud OEF Army Combat Veteran Mom
Stay Up To Date!
Get training info, classes, research, and opportunities delivered to your inbox!